Hungary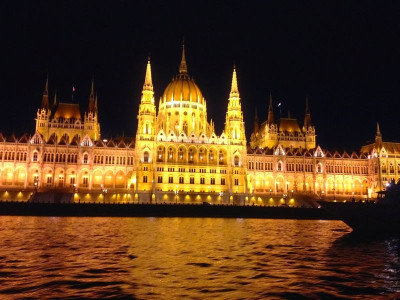 Budapest was created by joining two independent towns, Buda and Pest and inspires its visitors by number of interesting buildings, museums, galleries and, last but not least, unforgettable atmosphere and fabulous cuisine.
What to see:
A popular walk is the Danube Embankment between the Elizabeth Bridge (Erzsébet híd) and the Chain Bridge. Do not miss the tour of the monumental Parliament on the left riverbank which with its 268 meters of length and 691 rooms belongs to the largest governmental buildings in Europe. The Hungarian history and pride is celebrated by the Heroes' Square with its Millennium Memorial and Museum of Fine Arts on the left and Palace of Art (or Art Exhibition Museum) on the right.
Budapest is dominated by the Castle Buda above the river Danube and the Chain Bridge. The quarter underneath the castle is characteristic with narrow streets lined with buildings from the middle ages, baroque and classicism. Probably none of the visitors to Budapest can miss the Fisherman's Bastion, dating back to the break of the twentieth century and offering a magnificent view of the Parliament, the Chain Bridge and the Danube Embankment.
What to do:
You can not imagine Budapest without imagining its more than 100 mineral springs. You can enjoy them in one of the town's 50 spas. If you decide to visit one of the historical spas, you certainly will not regret this experience, as you will take a pleasant rest and get acquainted with just another of the city's perspectives. The most widely known is the Royal Spa, Rudas health spa, considered one of the most beautiful Turkish spa in town, Gellert spa built in the art-nouveau style and the Szécheny spa, one of the largest public spas in Europe.