Golf and sport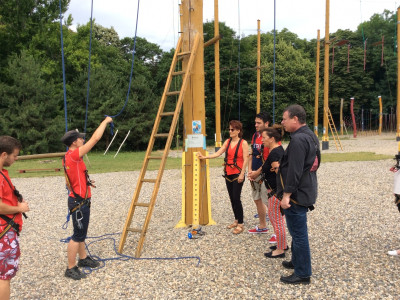 The Czech Republic is not only appealing to the beer lovers but also to the sports fans. Indeed, the diverse countryside of Central Europe allows everybody to find some activities to their taste.
Golf in the Czech Republic offers excellent international access, great value for money, good speed of play around the courses, a safe and secure destination and a charming countryside. More than 80 golf courses are currently challenging the serious and the fun golfer right throughout the Czech Republic, some of them designed by the legends of the game like Gary Player and Miquel Jiminez. Karlovy Vary, Cesky Krumlov, the UNESCO protected town, Pilsen also famous for its beer, as well as at the magnificent castle towns of Konopiste and Karlstejn are among the favorites destinations.
If you would like to get to know the Czech Republic in an unusual way, you should opt for a bicycle as your means of transport, as the country is well-equipped for biking tours.
The wine trails of southern Moravia make up a unique network of regional bicycle trails connecting the most interesting wineries with historical sites. The main Moravian Wine Trail connects Znojmo with Uherské Hradiště and travels through ten wine making regions. Some 1 000 kilometers of trails pass through the beautiful vineyards and gardens of southern Moravia.
There are also some 93 kilometers of bike trails in the capital. Prague diversity in landscape offers you the possibility to ride trough all types of terrain with beautiful views.
The Czech countryside is still relatively unexplored by foreign visitors, here we offer you the chance to ride through uninterrupted rolling meadows and forests and see for yourself the natural delights this fascinating country has to offer. You will find more than 600 km of marked riding trails in Eastern Bohemia. Local riding trails and circuits cross through Chrudim, or Pardubice regions and new trails for riding lovers are being established, for example, in the Orlické Mountains, in Podzvičínsko and in the Železné Mountains.
In winter, the wall of mountains surrounding the whole Czech Republic offers you the possibility to choose among first-class skiing facilities. You will find great downhill runs, cross-country trails, snowboard parks and also bobsled runs. The major ski resorts include: Špindlerův Mlýn, Pec pod Sněžkou, Harrachov and Rokytnice nad Jizerou in the Giant Montains and other resorts in the Jizera montains, the Beskydy Mountains, Pustevny, the Bohemian Forest , the Eagle Mountains, the Jeseníky Mountains and the Ore Mountains.
You will find many rope centers, as well as boulder walls, climbing Terrain at all levels of difficulty in many cities besides the capital. You can also try out bungee jumping, paintball, bobsled or go-karts at many locations. You can have a go at parachuting or paragliding or even experience a flight in a balloon.
Czech and Moravian rivers and streams also provide endless opportunities for water tourism. You can choose to paddle down romantic small rivers or experience the much-frequented rivers with equipped camps and rest stations with pubs. From the aspect of difficulty most Czech rivers are slow to moderately fast running.
The following rivers are most popular among Czech water tourists: Vltava, Lužnice, Beroun, Sázava, Otava and Ohře.
La Boheme offers you the possibility to choose among all those sport activities and many more to make your stay an unforgettable experience.
Please contact us anytime and we will be glad to assist you even in your mother tongue language.