Wedding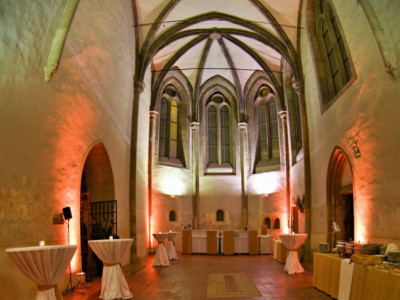 Have you ever thought to get married in Prague, one of the most romantic cities in the world? Have you ever dreamed of a commitment ceremony with just the right words and the right touch?
Now you can have the most spectacular wedding celebration through our agency. La Boheme will assign an experienced and professional wedding planner exclusively for the organization of your wedding. We take care of all the single details such as; the party, the menu, flowers, the legal process in case you are a foreigner, the venues, the accommodation for the invitees and even the honeymoon. La Boheme is definitively the perfect partner you can choose for the most significative and important event of your life.
We can provide hotels in Prague and also in all the beautiful spa towns in the Bohemian countryside. Because of our long-term cooperation with all the hotels in the city and also in the south of Bohemia we can find attractive deals for the preparation of your wedding and for the best comfort of your invitees.
Whether your wedding plans call for an intimate gathering of close family and friends or hundreds of wedding guests, La Boheme´s professional catering staff will assist you in any cases.
Choose from a wide variety of available styles, colors and flavors of both wedding cakes and grooms cakes. Cakes also include a broad array of designer cake toppers which complement these beautiful and tasty treasures.
Depending on your style of wedding, we will arrange the finest entertainment for your wedding celebration. Ranging from Folklore dancers to an electronic DJ and from two piece ensembles to forty five piece swing bands. We can schedule any entertainment that will please the audience and give to the reception a special touch.
Flower bouquets, boutonnieres and corsages using a tropical array of flowers will just give a lively touch to your wedding. Our team has the experience and the knowledge to arrange all kind of floral desires.
Formal wear, hair dresses, make-up
The latest styles as well as the traditional favorites are available for you. We also carry all of the accessories. We can arrange the hair dresser or makeup artist to come to your hotel or we can arrange for you to have your hair and makeup done at one of the leading beauty salons in Prague.
Complement your wedding reception with a one of our gifts/favors choices. Themed distinction favors and gifts are reminders of your big day to every single person celebrating with you this important occasion.
Many invitation styles from which to choose. We also have staff members who can hand-address your invitation in a variety of styles including calligraphy.
Our wedding photographers and videographers are professionals that work quickly and produce beautiful results.
Pre/post wedding activities
Prior to or following to your big day, allow us to organize activities for you and your wedding guests. Our worldwide network of professional wedding coordinators have hundreds of thousands of activities - there's something for everyone at any time!
Airport transfers, hotel transfers, wedding pick up and drop off—We can handle all of your transportation needs regardless of your location. Stretch limousines, Old Timers Cars ,20-passenger minibuses and more.
We can arrange a wide variety of parties: stag parties, bridal showers or engagement parties can be designed to meet your style.
A chic Prague hotel, a magnificent castle, a beautiful rose garden or a tranquil park?
The choice is yours and whatever you decide will quickly be transformed into your own personal dream venue.