History of the company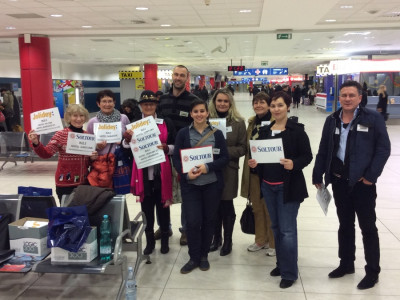 1991 - Mr. Ladislav Krulich and Mrs. Monika Szwarcová founded an outgoing travel agency.
1992 – One year after establishing the Czech outgoing travel agency the idea to found an incoming travel agency came into existence.
1993 – An incoming travel agency was founded which instantly became one of the largest in the Czech Republic as well as one of the strongest for the Spanish travel market. Towards the fall of 1993, the employees moved to new office premises in Praha 6 Dejvice.
1994 – La-Bohéme strengthened its position in the Spanish travel market and strived to gain new business partners from other countries. New contracts were signed with Israeli, Finnish, Swedish and French partners thus increasing the number of employees. With expansion into the new field of activity, gastronomy, a restaurant was opened being one of the largest brewery restaurants in Prague with its capacity of 250 seats. Novomestsky Pivovar (New Town Brewery) soon became famous because of its excellent Czech cuisine and beer brewed directly on the premises. Incoming services were offered within other countries such as Hungary, Austria, Poland, Germany and Slovakia plus the complete organization of services for Spanish groups in Prague, Vienna and Budapest ensued.
1995- La-Bohéme representatives along with the company owner, Mr. Krulich, visited the MOTIVATION SHOW – CMI, specialized travel fair in Chicago, IL USA and an idea to open a branch office La-Bohéme Chicago was realized a year later.
1996 – La-Boheme Tours USA Ltd. was founded. In the same year, the company opened its first 3* hotel Henrietta *** in Prague 8 district. Reconstruction of offices and further recruitment of employees took place.
1997- Due to insufficient capacities of 3* hotels in Prague, La-Bohéme opened a second hotel Aron *** in Prague 3 district.
1998 – Two successful projects were completed. First was the total organization of a conference for the Spanish Bank BBV (Banca Bilbao Vizcaya) for whom a gala dinner in the Spanish Hall of the Prague Castle was planned. A second project took place in the fall of '98 and La-Boheme became the major organizer for the International Symposium of Aromatase and Its exhibitors.
1999 – Because of an increase in business partners and employees, La-Bohéme purchased new office premises in Praha 6, Závěrka 4 and were officially appointed to the Association of Travel Agencies in the Czech Republic.
2000 – La-Bohéme became a partner of the prestigious project " Praha 2000 – European City of Culture". A second French-style restaurant Creperie, was opened at an ideal location next to the Charles Bridge.
2001 – La-Bohéme purchased Chateau Zduchovice in order to open a hotel, beauty and wellness farm there. A conference of the Spanish insurance company Muta General de Seguros and Israeli Telecommunication Company Orange was held, all organized by La-Bohéme. Towards the fall of 2001, La-Bohéme celebrated its 10th anniversary of existence. A party was held in a Mexican-style theme and proved that there were no limits in creativity.
2002 – La-Bohéme became the site agent for the E-2002 E-Business and E-Work conference in which the European Commission representatives participated. Simultaneously the preparations for our 11th anniversary were taking place. That time the party would be in Hawaiian style.
2003 - Opening of own catering company. Creation of new web site, where is possible to find all necessary information about our products and services. Our IT department created and implemented a sophisticated on-line booking system for our partners designed to expedite the booking process.
2004 - Opening our Arabic Department. New products for corporate clients as business trips, outgoing holidays, theme parties etc. La-Bohéme Christmas Prison party for our business partners. New fitness club with massages and personal trainer for employees and public as well. Enlarging of our team by 5 children. Opening of Horse riding area in town Zduchovice, where we arrange horse riding contests, also Summer camps for children with horse riding trainings and English courses.
In November 2004 we established our sister company "Boheme Concept" specialized in architecture, real estate and urbanism activities over whole Czech Republic (www.bohemeconcept.cz).
2005 - Like every year we participated in several trade fairs of tourism, for the first time, we took the challenge enter to the new Chinese market. We participated to the CITM fair trade in Kunming. A company training for our staff took place at LA BOHEME.
At the Horse riding area in Zduchovice, we organized interesting events and feasts with entertainment like vintage, pig-roasting, feast Norbert´s Name´s day, company presentations.
2006 - We organized horse riding contests "Pony Channel Star" (www.ponychannel.cz). This year we got an increase on French market´s volume regarding room nights in Czech Republic and in East Europe therefore we also increased our staff within the French department. In Autumn, we prepared and finalized incentive events which would be taking place in Winter 2006/2007. We continued in organizing horse riding contests Pony Channel Star + Miss Pony Channel. For the first time, organized "Czech Republic Championship in Pony dressage" (www.kone-zduchovice.cz).
We were preparing a project of constructing a 3 star hotel "Jezerná" in the horse riding area of Zduchovice.
In the castle in Zduchovice, a reconstruction was already in progress. We planned, the inauguration of the whole area, in 2007 where a Czech Cultural Centre - Zduchovice" would be opened.
Also we were working on another project with "Wellness & Congress" theme within a 4 star hotel including a 18 hole-golf, driving range, golf Academy for beginners (in the castle park), hotel would have around 100 rooms with congress hall, fitness room, spa and swimming pool.
2007 - We opened new department specialized in the service for Latin American countries. We took part of the workshop in Mexico with the most important partners, in Argentina F.I.T. fair, in Chile of the workshop
in the Achmart fair. We also developed our department of transportation as the result of growing request from the part of our clients. We were also pleased to show you our brand new representation materials introducing 15 years of our work in the incoming market.
2008 – Despite the beginning of the recession it was possible to maintain numbers of customers and even to earn new ones. It was possible to organize several incentive events for companies like CLINIQUE, GRUNENTHAL, AMEX, SEAT. We won the Ministry of Interior's public tender for workshops organization.
Arca Bohemia, the La-Boheme's subsidiary company is established that would be dealing with Polish customers.
2009 – That year a decrease in corporate clients as well as requests for incentive events was rather noticeable. Also the volume of incoming tourist groups as well as individual clients lost its dynamics partially because of the competition of online service booking companies.
However we were able to participate at organization of a famtrip for the Czechtourism Agency for Latin American clients, the market segment where we had been trying to get into for some time then and to earn individual clients.
After a short silence the Israel market got active again. We organized accommodation of the incentive event of UNICAJA, HOVAL, PFITZER, EGGED group PRAGUE/ BERLIN HANDASSAIM group.
2010 – We were quite successful in selling popular Easter Holiday charter trips even if there had been sharp decrease in demand for those traditional trips both in Spain and in Italy. We also welcomed first clients from Lebanon and established business relations with a travel agency there.
We organized accommodation and services for BERLIN-CHEMIE AG., DELEK MOTORS GROUP, OTD GROUP companies, organized incentive program for HILTON HOTELS general managers groups, our colleague Christophe Voyeau was quite successful in the incentive program for WELDOM Company preparation.
Unfortunately in the same year our long-term partner MUNDICOLOR in Spain ended its operation. The spring events organization was also complicated wit the Island Volcano explosion paralyzing flights operation in Europe. Because of that we had to postpone a big OIC ITALY congress event from April to October.
2011- In May 2011 we serviced another big congress event for UVET AMEX ITALY and we saw a big increase of bookings from Israel.
2012 - Incentive and congress sales started to rise again and we provided complete service for BANKIA SPAIN, SAB MILLER PERU,AL.CO DESIGN,BIONIKE a BAYER ITALY, VW ARGENTINA, MASTER PRO, BNP, ALSTOM, POLARIS, EDENDRED, SOCIÉTÉ GÉNÉRALE a IMERYS FRANCE. As our most important event we considered organising services for AMDOCS, especially the possibility of providing informal dinner at Saint Agnes Monastery and the farewell gala dinner at Smetana Hall of the Municipal House.
2013 – Also that year we were quite successful with our incentive customers providing complete arrangement of the VORWERK PORTUGAL trip. Our colleague Gabriela Manunzio was really busy organizing ENI ITALIA event full service including informal dinner at Vikarka Restaurant gala dinner at Rudolfinum and farewell dinner at Mlynec. We participated at organizing SPARTA PRAHA soccer team accommodation in Tel Aviv.
It is also worth mentioning our Israel incentive events organized for BEZEQ IZRAEL, MDEC IZRAEL.
Unfortunately we were also challenged with one more of our traditional partners from Spain going bankrupt leaving a considerable impact on La Bohéme sales portfolio.
2014 Despite the complicated situation it was possible to stabilize our company and to begin working at new projects. Also the situation of the tourist sector got stabilized and we saw number of bookings increasing.
We presented a very successful and creative incentive program for 3M ISRAEL company, participated at providing services for OLYMPIQUE LYON Soccer Club stay in Plzen and Mlada Boleslav. We also organized some events for companies established in Czech Republic-Curaden, Weinberger. We started to develop new website.
2015 In winter we provided accommodation and other services to SIG STRASSBOURG basketball team during their stay in Prague.
We had been quite busy with cooperation on organization of a conference and exhibition ITEC 2015 - THE INTERNATIONAL FORUM FOR THE MILITARY TRAINING, EDUCATION AND SIMULATION SECTORS for 3000 participants held on April 27-30 at PVA Letnany Prague.
May and June will be full of incentive groups from Israel and we are expecting quite a busy tourist season.
We are finishing building our new web pages and you can follow us on Facebook where we put the most current information about us.
And how the 2016 year will be? It depends also on you …...